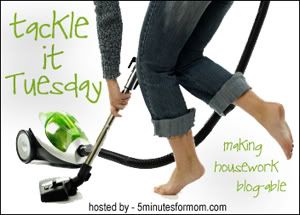 I was inspired by a post by
MorningSong
a few months ago, before my blog, to start using coupons to save money at the grocery store. While I am just learning, it has really saved us a lot of money! Yes, it takes work, but the payoff is worth it.
Menu Mondays has been a big help in tackling the grocery store too. Planning the weekly menus keeps us from eating out too much, most times, and it helps with my monthly grocery budget.
I wanted to share with you my clipboard that I made to take with me to the grocery store. It has certainly made shopping easier and more fun and it is hard to grumble about rising grocery prices when I see this verse.
I try to type my grocery list before I go to the store, clip the coupons I will be using behind my list, add a pen, and off I go. It keeps me organized and helps me keep my sanity and joyful spirit at the grocery store. You know what I'm talking about.
Except for yesterday!
Going down the baking aisle I ran into, not with my cart--it's just a saying , to my...are you ready for this...gynecologist! Yes, you read that correctly. Oh, the joy! What do you do? Shake his hand, give him a hug? I just casually waved and said hello, acted busy and kept shopping. Fortunately another one of his patients
caught
him and had to talk to him about the pain in her foot. Happy times!
How do you tackle the grocery store?