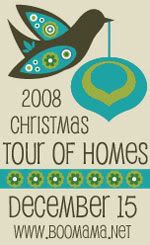 Welcome to our home! I am so honored that you stopped by.
I have to tell you that I have looked forward to BooMama's tour of homes since last year.

Oh, how I delighted in touring so many of the homes and secretly dreamed of a blog of my own. After
meeting Sophie
for a brief moment last August, I knew that I just had to be a part of the fun.
Make yourself at home!
If you were to drop by, you know for reals,
I might just serve you this delicious little cup of warm goodness:

Let the tour begin!
This is what you see when you come in the front door. It's our formal living room and dining room. I just love the lighted garland highlighting the drapes. (It is quite a sight to see us when Rachel and I are putting it up...let's just say, lots of giggles.)
The two dolls on the piano are special. They belonged to my precious Aunt Faye.
I think it is fun to hang the ornaments from the chandelier.


I am blessed with several nativity sets but this one is one of my favorites. It belonged to my granny. Every year she would make a special snowball cake, place the nativity on top, light a candle, and then we would all sing happy birthday to Jesus.

My mom now makes Granny's special cake and we get to sing together with my daughters. I look forward to this tradition every year. My Granny would be so thrilled!
Here is the heart of our home, our kitchen:
My mom made this beautiful Christmas quilt. She is amazing!
And our Texas style family room:
Thanks to some amazing garlandy advice from Nester,
I now have full garlands on my mantle too.
Oh, how I love the sights and sounds of a roaring fire in the fireplace!
Mr. Incredible and I met at Baylor University many years ago. Two years ago, while on a trip to Ruidoso, New Mexico, he found this bear nativity set and surprised me with it. I love the angel bear wings! Too cute!
I love to put these pictures out every year. They are our Christmas family photo cards that we have sent through the years. It takes my breath away to see how much the girls have grown in what seems like only a few seconds. My mind is flooded with thousands of memories when I look at these pictures.
Here is our family tree. It is so hard to take good photos of your tree, isn't it?
We find a new ornament for our daughters every year. The ornaments don't match, but there is a story behind each and every one. I think the red ribbon is fabulous. My parents found it at First Monday in Canton, Texas.
We have non-traditional ornaments on our tree too. I saved a few pairs of baby shoes that I like to put on the tree.
And of, course, these Baylor Bear socks.
Melanie
, if you happen to stop by, I am posting this picture in your honor...sic 'em bears!
Whew! I think that is all for now. You don't know how much your visit to my blog blesses me. May each one of you have a blessed Christmas filled with love overflowing for the One in whom we celebrate. Jesus is absolutely the BEST gift ever. What a joy to be called His child!
Joyfully,
Kristi